Vancouver Indigenous Fashion Week returns this month after a three-year hiatus caused by COVID, with this version's theme rekindling joy in the face of pain.
"I think fashion can be a catalyst for joy," founder and co-producer Jolene Mitton told NCM. "For the indigenous community, the last two years have been marked by pain. We lost many dear old people, and the horrific legacy of residential schools saturated everything. It's time to come together and be in person and on good terms with others."
From November 28 to December 1 at the Queen Elizabeth Theatre, Vancouver Indigenous Fashion Week (VIFW) features new collections from 32 designers, 40 vendors/artisans selling handmade goods, and musical performances by various artists, including The Wolfpack, Snotty Nose Rez Kids, Soul Shakers, DJ O Show, and DJ Kookum. On December 2, the closing event, the Supernatural Kiki Ball, will take place at the Performance Works.
A former model in the international fashion industry, Mitton enjoyed what she describes as "the play therapy aspect of modeling" but found the industry shallow. Returning to her hometown of Vancouver, Mitton, of Plains Cree, French and Scottish descent, began working with indigenous youth on the Urban Butterflies project. Not seeing these young people or her clothing represented in her media inspired her to start Vancouver Indigenous Fashion Week in 2017.
As a continuation of his ongoing work mentoring indigenous youth in various settings, Mitton created a mentorship program during the last iteration of VIFW in 2019. The program provides 16 youth the opportunity to interact with indigenous artists and cultural leaders during the festival of eight weeks. period, and gain wisdom and support on your journey toward fulfilling your dreams.
"How do you know if there's no one there to show you the way?" Mitton asks. "So [this program] hopes to be a fork in the road for some of these kids."
Practical industry experience
Participating in the mentoring program has been transformative for Tiana Oostindie, a 26-year-old mixed-race young woman living in Vancouver. Since her introduction to her show as a guest in 2017, Oostindie has come full circle to participate as a model and senior trainee.
She told NCM that she has appreciated the opportunity to gain "hands-on" experience and a way to break into the fashion industry while boosting her confidence and building relationships with the involved community. This includes the Circle of Wisdom, made up of elders from the Musqueam, Squamish, and Tsleil-Waututh nations. Mitton says these "powerful people" have helped improve indigenous visibility in Vancouver and serve as custodians of knowledge, providing a circle of protection around youth.
Oostindie recounts doing a photo shoot with the elderly at Wisdom Circle where she learned about the meaning behind the designs the models wore.
"Vancouver Indigenous Fashion Week has given me purpose and confidence," she says. "And since I'm not from Vancouver, I met most of my friends through this and now we feel like family.
"The amount of growth I've had from being a part of this has been so great. [and] I know that whatever I do in my life, I want to positively impact indigenous communities."
This year, Pam Baker, veteran Squamish/Musgamagw Dzawada'enuxw fashion designer and mentor to Mitton, is co-producing the show. Mitton says it's valuable to have a team that includes different generations and encourages knowledge sharing. "Having that extra mentoring is important," she says. "Mentoring never stops."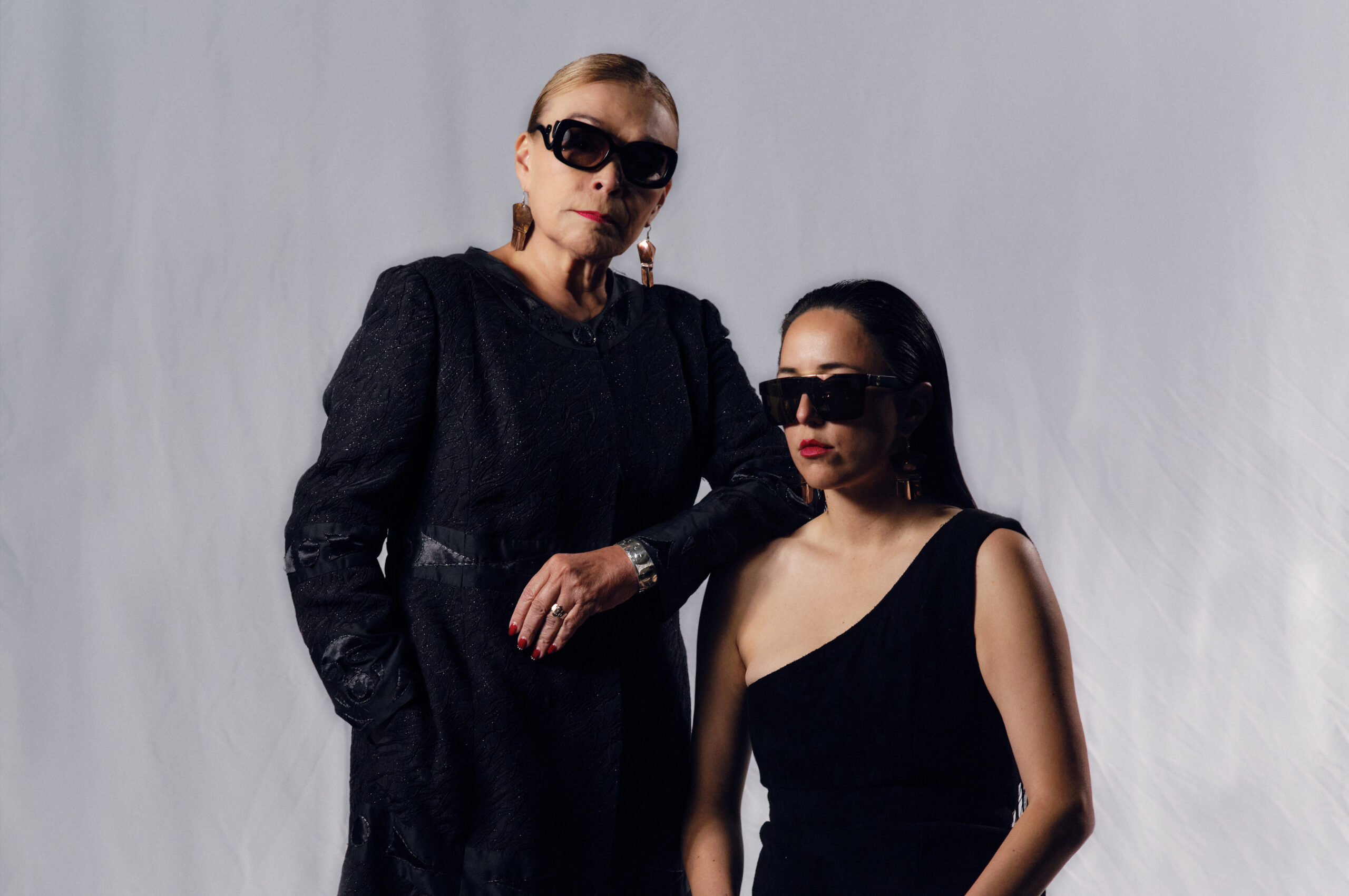 Pam Baker (left) and Joleen Mitton, co-producers of Vancouver Indigenous Fashion Week 2022.
Using fashion to raise awareness
As in previous years, the week opens with the Red Dress Event honoring Missing and Murdered Indigenous Women and Girls (MMIWG) and the people of two spirits. Host Lorelei Williams has been involved with VIFW from the very beginning. Her dance group butterflies in spiritmade up of relatives of MMIWG, held at the first event. Williams, a Skatin and Sts'Ailes First Nations woman from Vancouver, represents her aunt, Belinda Williams, who has been missing since 1978, and her cousin, Tanya Holyk, who was murdered by serial killer Robert Pickton.
"There are so many women missing and found dead right now. It's just a problem that's not going to go away," Williams told NCM. "So any kind of awareness around this issue is very important. I don't know of any other fashion show that truly honors missing and murdered indigenous women and girls. It is very important because the lives of our indigenous women and girls are at stake."
In VIFW's second year, Williams wore a huge red cape representing the MMIWG2S given to him by designer Morgan Asoyuf, and which he recently brought to the Vatican to bring this issue to the attention of the Pope. She says that the photo of her in the cape at VIFW was shared a lot on social media, which helped raise awareness of the story behind it. In the same way, she says VIFW appeals to a different audience that would not attend other indigenous advocacy events.
For Oostindie, VIFW is an opportunity to "show our beauty and what we are doing and creating", in contrast to the "usual negative news" about indigenous peoples.
Mitton hopes VIFW will become a city staple, like the Vancouver jazz festival. "Fashion is an easy way to talk about difficult topics," she says. "It is a way of bringing art to space for the education of the settlers. It's very transformative."
Please share our stories!
Source: news.google.com