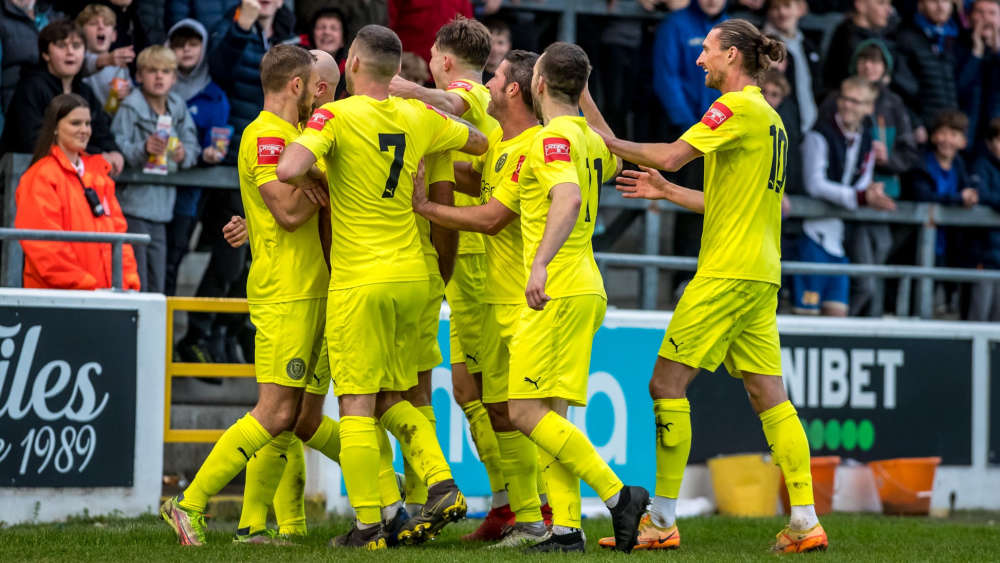 Lancaster City celebrate their goal on Saturday. Photo by Phil Dawson (@PhotosbyPhilD)
Lancaster City were knocked out of the FA Trophy by Chester, but they deserved so much more from the game.
Lancaster unarguably had the best chances of Saturday's match at Deva Stadium but football is a cruel sport and Chester scored twice in the last 20 minutes to turn the game around after Sam Bailey scored the opener for the City.
The game started out pretty even. Chester's Alex Kenyon, formerly of Lancaster City and Morecambe, headed wide from a free kick. Dale Whitham fired past the post from the edge of the box in Lancaster's first effort of the game.
Chester had one or two good chances as the half progressed. Dollies goalkeeper Sam Waller saved Ollie Heywood's great effort, and Declan Weeks' powerful shot skimmed the crossbar.
After that, Sam Bailey was the center of attention in the first half. After an effort that he whistled past the post and another went over the bar, he gave the visitors the lead in acrobatic style, leaping high to volley into the net.
Bailey was causing trouble again just before half-time, this time lobbing a ball into the box which Dale Whitham found his effort too high or it would have been two for City.
Chester started the second half aggressively, looking for an equalizer. Kenyon had a 40-yard effort saved handily by Waller.
Lancaster was denied a second when Brad Carroll, through one on one, had his shot saved by the outstretched leg of Chester goalkeeper Harry Tyrer.
The visitors had another chance to extend the lead, and it was pretty incredible that they couldn't take it. Tyrer saved David Norris's close-range shot and deflected it away, but he was still a few yards from goal. Nic Evangelinos tried to tuck it in but Tyrer was there to deflect it into a corner.
Chester equalized when Kurt Willoughby latched on to a through ball and tucked it home.
City had performed so well over the course of the 1990s, and it looked as though the tie would be decided the hard way possible: penalties. However, just seconds after added time, the hosts took the lead: Willoughby bagged the brace from him by going around the goalkeeper and rolling him.
Source: news.google.com