Cat Burton, a 2017 Slippery Rock University graduate, is the creative arts manager for the Children's Museum of Pittsburgh. She collaborates with many people in the Pittsburgh art and fashion community, including stylist Bradley Hill, who contributed her look for this photo shoot.
January 30, 2023
SLIPPERY ROCK, Pennsylvania. — Many people think of their career as a series of crossroads. For Cat Burton, there is a particular crossroads that she prefers.
"My passion lies in the intersection of art and fashion," said Burton, a 2017 graduate of Slippery Rock University with a bachelor's degree in communication: integrated marketing. "Fashion is something that everyone can see. It's an expression of yourself: the style, the clothes you choose to wear. There's something really special about making a kind of art that you can present to the world."
Burton is in her second year as creative arts manager for the Children's Museum of Pittsburgh. Although she is an artist and model herself, Burton wants to provide more access and strengthen communities through the arts, whether it's sparking creativity in children or providing opportunities for emerging artists.
For Burton, art is not created in isolation. The busier the intersection, the better.
"The arts are often not a priority in public school systems," Burton said. "Kids need a creative outlet and a place to express themselves."
As the creative arts manager at the Children's Museum, Burton creates exhibit spaces for community artists and coordinates programming, including a recent fashion-related project titled "How You Wear It."
She has many side companies as well. As the founder of a production company, Create Art Together, Burton produces concepts, images, events and shows for clients including independent artists, brands and other organizations.
"The best art is created through collaboration," Burton said. "Everything I do as a project manager is a collaborative process, whether it's a fashion show or an art gallery exhibition. There are stylists, models, DJs and the team behind the scenes. It's great to see it all come together. ".
Burton's skills and passion began to come together as a student at SRU. Originally from Erie, Burton liked the atmosphere at SRU and became involved with many organizations on campus. She worked in what is now the University's Office for Inclusive Excellence, served as a mentor for the Jump Start program, and helped lead several student clubs, including the Black Action Society and the Student Organization of Latinos/Hispanics and Allies.
"I really enjoyed being able to express myself through those cultural organizations, and found my footing as a person in the community," Burton said. "I didn't realize I had that ability before I came to SRU. I've learned how to work with other people who have different communication styles and viewpoints and create something that is mutually beneficial."
Due to her involvement with SRU, she pursued a career related to the arts and culture. She lived in Washington, DC, for a few months after graduating in 2017 before moving back to Western Pennsylvania to work two facilities/operations positions in Pittsburgh. Burton was coordinator of operations at the David L. Lawrence Convention Center for a year and a half before taking a job as facilities manager for the August Wilson Center for African American Culture for two years.
"I learned a lot about running events behind the scenes," Burton said. "Even though it wasn't what I wanted to do for the rest of my life, I was grateful for all the experience I got that helps me today.
"Now, I work with the exhibits department at the Children's Museum. Because the exhibits team builds all of its exhibits, I bring that facilities management experience to this job. Although I'm more forward-facing with programming now, I still have all my behind-the-scenes knowledge I've learned from previous positions."
Burton is very proud of her work with the "How You Wear It" exhibit, which was part of the MuseumLab at the Children's Museum of Pittsburgh. It included performances by 30 different artists, including a "spider dress" by tech designer Anouk Wipprecht with arms and sensors to maintain personal boundaries, a stylish nod to physical distancing in the age of the pandemic. The nearly year-long showcase included a speaker series and a week-long children's sewing class taught by a professional stylist.
Style412 produced the video that accompanied the exhibition and served as another example of Burton's ongoing collaborations. She has been a frequent model and production assistant for Style412, a non-profit organization dedicated to the Pittsburgh fashion industry.
Burton's portfolio also includes curated exhibits at Social Status, Glitterbox Theater and TRUSST Lingerie, along with various creative works with 1Hood Media, Luxurae Hair, Day Owl and Sabika Jewelry. In 2019, she directed her first fashion show, "Styled By Example", celebrating Women's History Month. The event, hosted by her production company at Spirit Hall in Pittsburgh, showcased the work of several of the city's stylists and models with fashions from each of the previous decades dating back to the 1920s.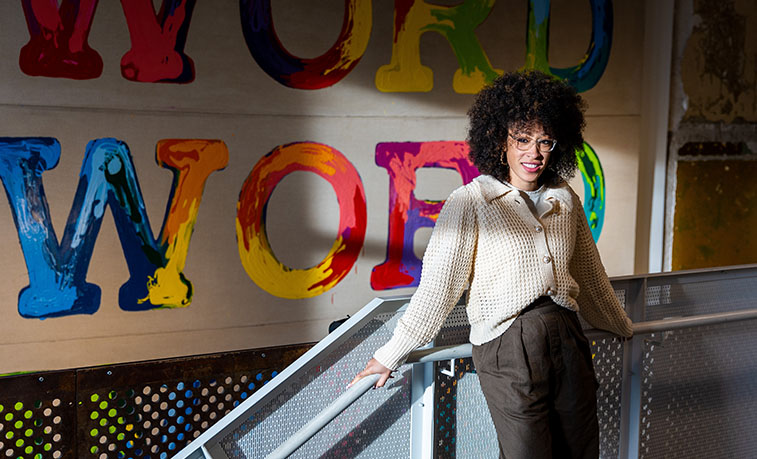 Burton is also active in organizations and committees that spread awareness, appreciation, and application of the arts. She has served on the art advisory committees for the Pittsburgh International Airport and the Creative Learning Network and was also a member of the Greater Pittsburgh Arts Council's Pittsburgh Emerging Artist Leaders.
She is committed to drawing attention to other artists and their work, which complements her own sense of style.
"My style is minimalist," Burton said. "It's a lot of neutrals and black and white. I don't like to stand out. There's peak art, which can also be beautiful with bright colors, but it's not what I'm drawn to. I like the art you have." come closer to see."
And while that may be Burton's style, it's not for everyone.
"Good art is what makes artists happy," Burton said. "And sometimes the viewer can have a completely different idea of ​​what the artist is trying to convey."
There will be many more creative intersections and crossroads throughout Burton's career path. He is currently exploring collaborations for a film festival and creating grants for artists in the community.
"I definitely want to generate more funding and close the gap for artists so that we can create more opportunities for them," Burton said. "The more people I work with, the more I can relate to and provide opportunities for others."
MEDIA CONTACT: Justin Zackal | 724.738.4854 | [email protected]
Source: news.google.com