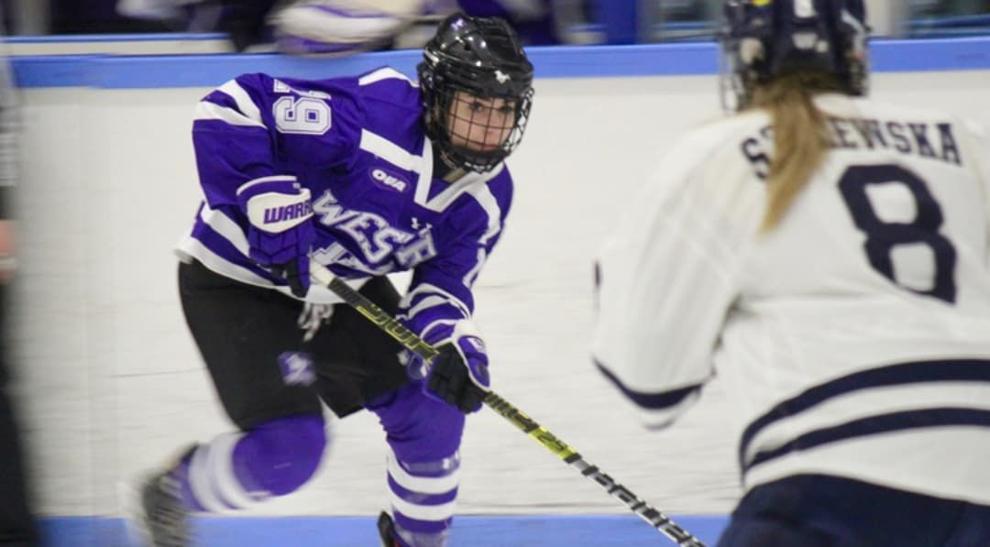 Courtesy of Francesca DeNoble/Mustangs Athletics

The Mustangs women's hockey team suffered two overtime losses last weekend, losing 3-2 to the Lancers on Saturday afternoon and 4-3 to the Lakers on Sunday night.
The biggest stories of the weekend
Mustangs didn't help themselves by being undisciplined. The team took nine penalties on Saturday and five penalties on Sunday, including a penalty that led to the Nipissing University Lakers' game-winning goal in overtime.
Saturday afternoon emotions
After starting the weekend with a penalty, the Mustangs managed to score a goal in the first 10 minutes of Saturday's game against the University of Windsor Lancers. Sophomore Western forward Elizabeth Gauthier capitalized on an odd-man run gifted by a Windsor rotation.
The Mustangs traded goals with the Lancers before Windsor's leading scorer, junior forward Maggie Peterson, scored the game-winning goal just 31 seconds after overtime.
Despite taking nine penalties and missing the extra point, the Mustangs outscored the Lancers 34-24 in a game that could have gone either way.
Sunday night heartthrob
The unsung hero of the weekend was fourth-year Western forward Hannah Irwin, who helped the Mustangs overcome a 3-1 deficit in the third quarter of Sunday's clash with the Lakers. Irwin scored two goals in the final five minutes of the game, including a game-tying goal assisted by fourth-year defenseman Sarah Irwin, Hannah's twin sister.
The Mustangs' demise came when sophomore defenseman Gabrielle Lehoux was hit with a hitch penalty with 27 seconds remaining in the third. Western forced overtime, but with 14 seconds remaining in Nippissing's four-on-three power play, Lakers third-year defenseman Madison Laberge ended the game with an overtime score.
The Mustangs' unruly play finally caught up with them when the Lakers scored their game-winning goal in overtime, another power play goal.
Whats Next?
Looking ahead, the Mustangs will travel to Toronto to take on the University of Toronto Varsity Blues on Friday night at 7 pm.
Varsity Blues currently leads the eastern division of the Ontario University Athletics, while Western ranks fourth in the OUA western division.
Source: news.google.com