Adidas has had to deny that it appointed a former Cambodian union official as its new co-CEO and launched a collection of Derelicte-style garments previously worn by factory workers, as a fake launch event at Berlin fashion week generated confusion throughout the fashion world.
A fake press release, written by cultural activist duo The Yes Men and sent to fashion bloggers from a fake Adidas email address, announced a "revolutionary plan" for the German sportswear company, designed to "own of reality" of the working conditions in the factories of Southeast Asia where many of their garments are manufactured.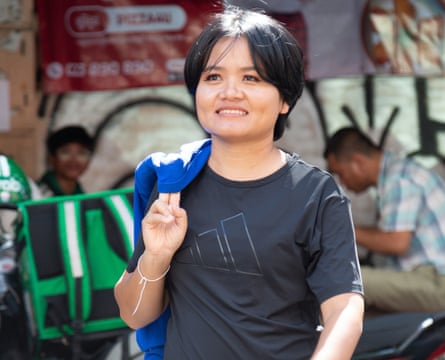 Vay Ya Nak Phoan, a former garment worker and union leader, has been named the future 'co-CEO' of the company. Photography: Reality Wear
Former Cambodian garment worker and union leader Vay Ya Nak Phoan has been announced as a future co-CEO alongside Bjørn Gulden, the former Puma executive who took over Adidas earlier this year.
The company's new direction was to be underscored by a new range of "reality clothing" products, reportedly curated by rapper Pharrell Williams, consisting of "carefully worn" garments "upcycled from clothing worn non-stop for six months by Cambodian workers owed wages withheld during the pandemic."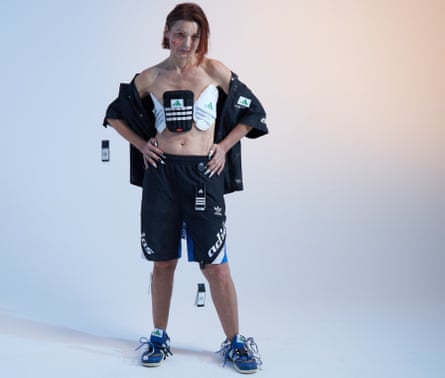 Adidas x Philllllthy reality clothing. Photography: axl_jansen
At a parody launch event in central Berlin, bruised and bloodied models stumbled down the runway in "reality clothing" in front of an audience that seemed to accept the collection as genuine.
A pair of Adidas slippers with spikes through the soles were presented in a glass cage, as an example of the company's new spirit.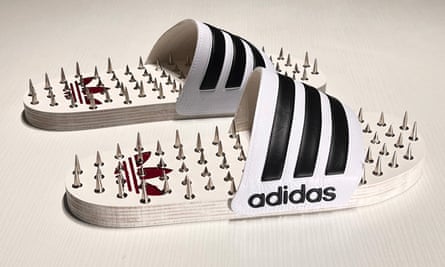 Pokey sliders from Adidas x Pharrell Williams. Photography: Reality Wear
At noon, Adidas denied being behind the release. "This ad is not from Adidas and is not correct," a spokesperson said.
By then, the press release had been picked up by various fashion news bloggers and websites. "Adidas seems to have learned from past mistakes and seems interested in a serious course correction from her," wrote the FashionUnited news portal, in an article that was later taken offline.
Another report, picked up by the MSN news aggregator, portrayed the new range as Adidas trying to "make amends" after being forced to cancel its collaboration with Kanye West over the rapper's anti-Semitic comments.
"Adidas is a company close to my heart," said Yes Men co-founder Igor Vamos, who operates under the alias Mike Bananno. "They have this track record of incredible scandals that they have managed to overcome. They are masters of greenwashing.
"Bjørn Gulden has talked a lot about doing the right thing, maybe today's stunt will prompt them to do it."
Vamos and his co-conspirator Jacques Servín have in the past posed as spokesmen for the World Trade Organization, McDonald's, Dow Chemical, and the US Department of Housing and Urban Development.
Last summer there was a strike at Adidas supplier factories in Cambodia, where unions said there was an increase in selective dismissals of union leaders during the Covid pandemic. Lobbyists claim that more than 30,000 workers at eight factories that produce Adidas clothing in Cambodia are owed $11.7 million (£9.6 million).
Source: news.google.com